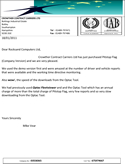 "
Crowther Contract Carriers Ltd has just purchased Pitstop Flag (Company Version) and we are very pleased. We used the Trial version first and were amazed at the number of driver and vehicle reports that were available and the working time directive monitoring.
Also wow!, the speed of downloads from the Optac Tool. We had previously used Optac Fleetviewer and Optac Tool which has an annual charge of more than the total charge of Pitstop Flag, very few reports and so very slow downloading from the Optac Tool.
"
Mike Vear, Crowther Contract Carriers Ltd, Southampton.
"
Just to let you know your application works perfectly and although Im still learning my way through the software features I find it easy to use and the back up you gave me was brilliant and I would definitely recommend you to anyone who is looking for digital tacho software as Im glad to have found a company who offers such an amazing after sales support and a willingness to assist no matter how trivial the problem.
It is a pleasure to do business with you and I hope to keep doing business with you for all our future tachograph needs."
Steven Bragg, Moss Bay Metals, Workington.
"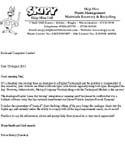 The Pitstop/Tachospeed is a brilliant piece of software configuration and it's transformed our Driver/Vehicle Analysis and Record Keeping. I thought that I was pretty good at analysing the charts but your software is superlative and the same day driving integration is amazing!
Needless to say the information, advice and prompt help from yourself is very much appreciated!.
"
Robin, Skipy Skip Hire Ltd, Rugby.
"
A big thank you to Rocksand for all their help and support with the software, it was so easy to install and use after just a few hints and tips they gave me over the telephone.
The downloads from the key just take a few seconds to complete and the information that you can get from it is really useful. It is so easy to use even the other half can now do it and I do not have to sit there guiding him through it each time.
All in all a great piece of software that just takes seconds to do.
"
Charmaine, C.R.E.Haulage Ltd., Bracknell.
"
As we were only beginners at using computers, we were rather worried about the technical side of getting a van with a digital tachograph. Paul and the team assured us the software would be easy to use and it has certainly lived up to this. They were even kind enough to spend time explaining various aspects of having digital tachographs as well as giving some tips on computers in general.
"
Anne, Edicos, Leyton.
"
We looked at several products before choosing Pitstop. This software had all the infringement reporting we required that seemed to be missing from other products in the same price band.
The graphs and reports are crystal clear and on the odd occasion we have contacted Rocksand for support, they have always been prompt and friendly
"
Angela, DGS Scaffolding, Edmonton.