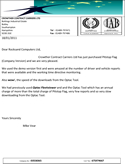 "
Crowther Contract Carriers Ltd has just purchased Pitstop Flag (Company Version) and we are very pleased. We used the Trial version first and were amazed at the number of driver and vehicle reports that were available and the working time directive monitoring.
Also wow!, the speed of downloads from the Optac Tool. We had previously used Optac Fleetviewer and Optac Tool which has an annual charge of more than the total charge of Pitstop Flag, very few reports and so very slow downloading from the Optac Tool.
"
Mike Vear, Crowther Contract Carriers Ltd, Southampton.
"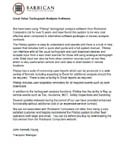 We have been using Pitstop tachograph analysis software from Rocksand Computers Ltd for over 5 years and have found this system to be very cost effective when compared to alternative software packages or bureau analysis contracts.
The Pitstop system is easy to understand and operate and there is a built in help system that includes both a quick start guide and a full system manual. Pitstop can interface with all the usual tachograph and card download devices and accepts input from a wax chart scanner for those still using analogue tachograph units.................
"
John Kennett-Young, Barbican Logistics, Cambridge.
"
Within an hour I had installed and completely set up the system, imported the last twelve months data, imported the latest data from three companies and produced the print outs...........What a time saver and so easy to use.
Wish I had this system previously!!!
A feature I particularly like is the option to put the driver to active or inactive - massive plus when it comes to selecting the drivers for print outs.
A happy customer. Thanks again.
"
Andy & Claire, Artic Bureau Services, Eastbourne.
"
Just to let you know your application works perfectly and although Im still learning my way through the software features I find it easy to use and the back up you gave me was brilliant and I would definitely recommend you to anyone who is looking for digital tacho software as Im glad to have found a company who offers such an amazing after sales support and a willingness to assist no matter how trivial the problem.
It is a pleasure to do business with you and I hope to keep doing business with you for all our future tachograph needs."
Steven Bragg, Moss Bay Metals, Workington.
"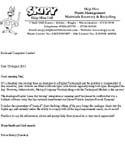 The Pitstop/Tachospeed is a brilliant piece of software configuration and it's transformed our Driver/Vehicle Analysis and Record Keeping. I thought that I was pretty good at analysing the charts but your software is superlative and the same day driving integration is amazing!
Needless to say the information, advice and prompt help from yourself is very much appreciated!.
"
Robin, Skipy Skip Hire Ltd, Rugby.
"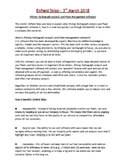 Pitstop has been developed by experts that have incredible knowledge in logistics, freight and the transport sectors. This has been built to offer various companies a reliable, money saving alternative. By bringing our tachograph analysis in-house, we are able to make much greater savings by eliminating expensive third-party providers, so you have your all important data to hand at all times.
"
Terry, Enfield Skips, Enfield.
"
A big thank you to Rocksand for all their help and support with the software, it was so easy to install and use after just a few hints and tips they gave me over the telephone.
The downloads from the key just take a few seconds to complete and the information that you can get from it is really useful. It is so easy to use even the other half can now do it and I do not have to sit there guiding him through it each time.
All in all a great piece of software that just takes seconds to do.
"
Charmaine, C.R.E.Haulage Ltd., Bracknell.
"
As we were only beginners at using computers, we were rather worried about the technical side of getting a van with a digital tachograph. Paul and the team assured us the software would be easy to use and it has certainly lived up to this. They were even kind enough to spend time explaining various aspects of having digital tachographs as well as giving some tips on computers in general.
"
Anne, Edicos, Leyton.
"
We looked at several products before choosing Pitstop. This software had all the infringement reporting we required that seemed to be missing from other products in the same price band.
The graphs and reports are crystal clear and on the odd occasion we have contacted Rocksand for support, they have always been prompt and friendly
"
Angela, DGS Scaffolding, Edmonton.
"
I purchased the driver only software so that I could keep my own backups. This is because I drive for different companies at different times of the year and thought it better to have all the back-ups in the one place. As this was all a little bit new to me it took a little while to get through the set up, but once you get up and running it is excellent. More importantly, the service from the company was excellent and any time I emailed with a query, it was answered very quickly with very clear guidance. Thanks for your help and I am very happy to recommend you.
"
Ciaran Mangan, Tipperary.
"
If you are looking for a good Tachograph Analysis program we highly recommend Pitstop. Its very easy to use with excellent reports. The support is very efficient and useful, although as it is very reliable we haven't had to use the support that often which is a good sign! They were very helpful with the initial set up and instructions.
"
GWS Scaffolding, Cheshunt.